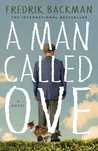 A Man Called Ove
by
Fredrik Backman
My rating:
5 of 5 stars
In my last Goodreads review,
I ranted
like a grumpy old man about the value of "storytelling." So how unexpectedly great it has been to listen to a story (Audible version) about a literal grumpy old man and re-remember the lesson that a great story can change your perspective in life-affirming ways.
Yes, the grumpy-old-man-masking-a-heart-of-gold-and-an-intriguing-backstory has been done before. But this tale is unsentimental and rings true. Fredrik Backman, you had me at the first haunted words Ove addressed to his wife.
Not only is this pure storytelling at a high level, but this particular version of the story has been translated from Swedish to English. How hard is it to capture the rhythm of literature and not sound a flat note in another language? I used to have a Latin teacher, a mild-mannered Roman Catholic priest -- and every year he watched young scholars struggle with translating Catullus. It was an incredible experience for him, especially considering the source material. One thing he said he learned was captured in an Old World, no longer-politically-correct maxim: "Translations are like women; the more beautiful they are, the less true."
So I give this book an extra star because of its talented translator -- Henning Koch -- who seems to have produced an English version of this book that's both beautiful and true.
I'm also resisting an urge to that star away, since Ove's beloved "Saab" may someday re-appear as a brand and this book would then fall into the hands of that most reviled of all storytellers, the content strategist. But until that day comes, I stand by this review.
View all my reviews